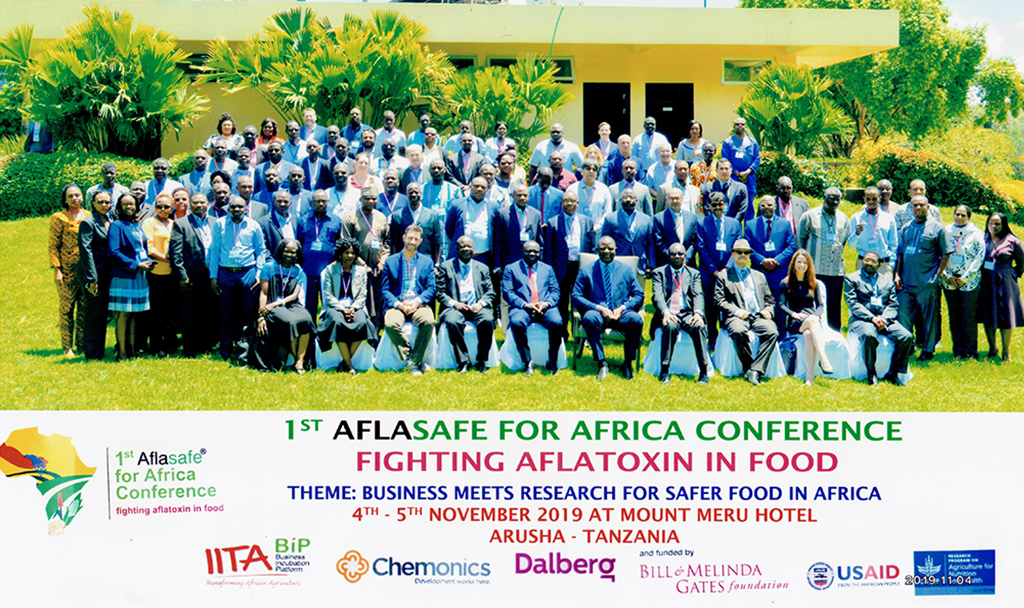 Photograph of participants at the first Aflasafe for Africa Conference. THEME- Business Meets Research For Safer Food In Africa. 4th-5th November 2019. Venue-Mount Meru Hotel, Arusha-Tanzania.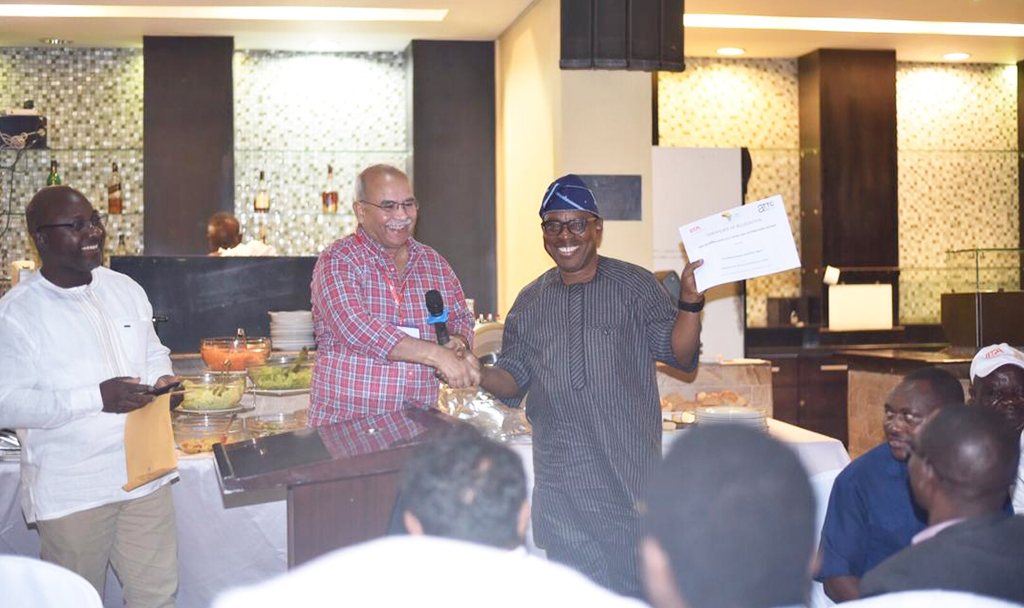 Harvestfield Industries Ltd won the "Best Aflasafe Manufacturer and Distributor Award In AFRICA" at the 1st Aflasafe for Africa Conference in Arusha, Tanzania, 4th November 2019.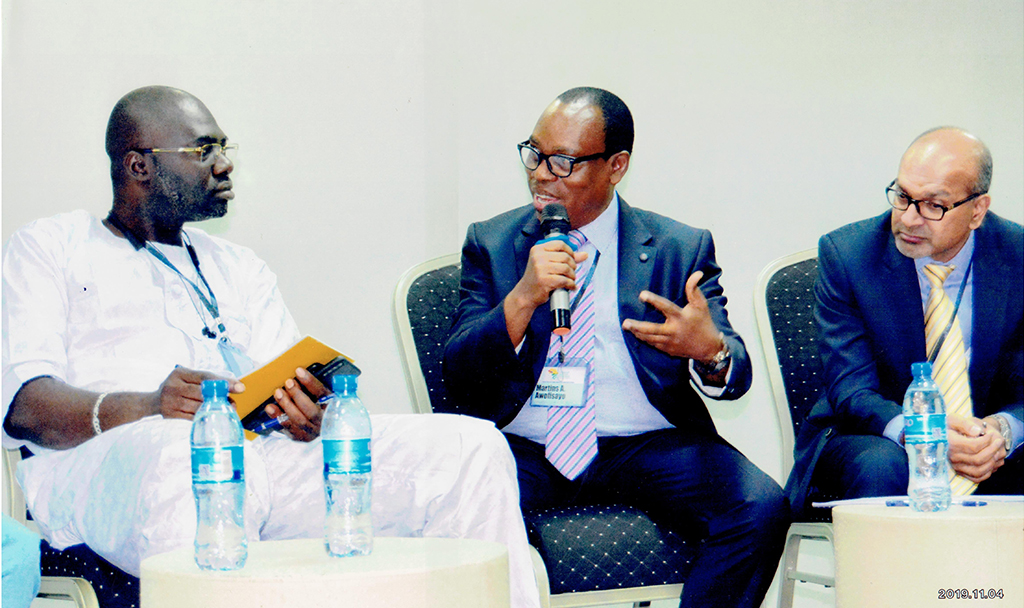 Chairman, Bamtaare, Senegal, Mr Goule Gueye (left); Chairman, Harvestfield Ind. Ltd, Nigeria, Mr Martins Awofisayo (centre) and Chairman, A to Z Textile Mills Ltd, Tanzania, Mr Kalpesh Shah (right) during the panel session at the 1st Aflasafe for Africa Conference, Tanzania.
IITA signs Technology Transfer and Licensing Agreement with Harvestfield Industries Limited for the manufacturing and distribution of Aflasafe in Nigeria at AgriServe Conference room, AgriServe building, IITA Headquarters, Ibadan, Nigeria on 12 March 2018.
Nigeria rising up to the aflatoxin challenge! Presenting the formidable Harvestfield force 'fomenting' and spearheading an anti-aflatoxin revolution in Nigeria, with Aflasafe™ as the surprise 'weapon' in its arsenal. At the roundtable discussion at Harvestfield's company's headquarters in Lagos, Nigeria, was the entire top tier of Harvestfield's management. Here, we have Martins Awofisayo (2nd right), Managing Director; Abdullahi A Ndarubu (extreme right), Chief Operating Officer; Wole Ilori (2nd left), General Manager, Sales and Technical; and Opeyemi Ogedengbe (extreme left), Senior Technical Representative for Aflasafe™

HIL First Nationwide Sensitization & Demonstration on the use and Benefits of Aflasafe.
7500 Communities farmers trained across Nigeria February/March, 2018

HIL Second Nationwide Sensitization & Demonstration on the use and Benefits of Aflasafe.
6000 farmers were trained across. May/June, 2018

Jigawa State Government- OLAM Groundnut Export promotion Initiative in Collaboration with HIL and IITA- ATTC 14TH -17TH MAY, 2018

Training of GUINNESS Nigeria PLC Sorghum Out-growers in Nasarawa, FCT, Adamawa, Kebbi, Katsina, Kaduna, Kano and Kogi State on the proper usage of Aflasafe, September 17th- 21st, 2018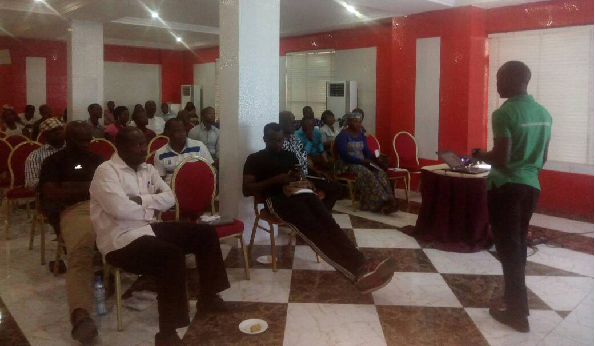 Training of Nigerian Processed Food Commodities Exporters Association in Ikeja, Lagos State on the importance of Aflasafe, 18th Aug., 2018

Training of NESTLE Nigeria Golden Morn maize farmers in Saminaka, Kaduna State, Nigeria on the best usage of aflasafe. 14th Feb., 2018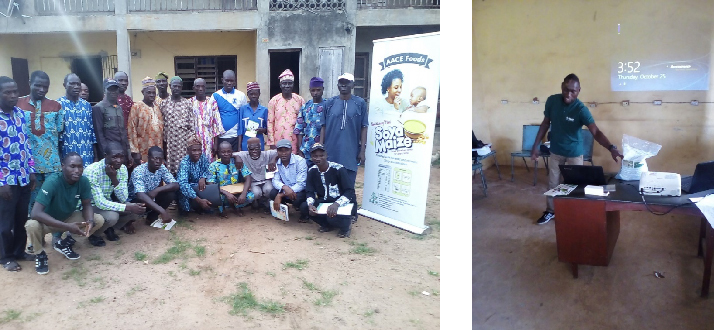 Training of AACE Foods & Processing Maize Out-growers in Ogun State on the proper use of Aflasafe. 25th Oct., 2018

Groundnut Exporters Round Table Meeting at Bolton White Hotel, Abuja. 9th August, 2018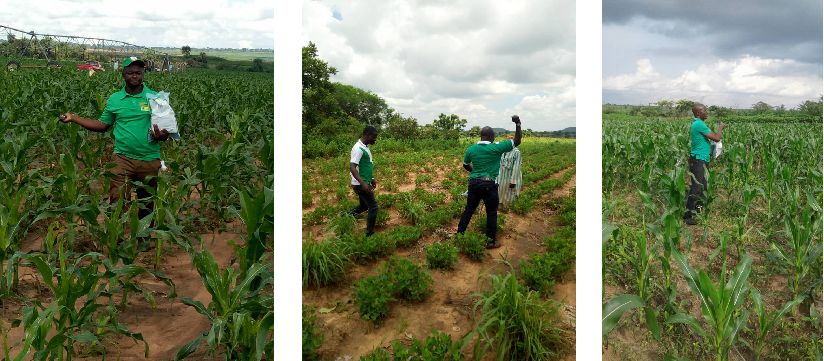 HIL Establishment of on-farm maize and groundnut comparative demonstration plot nationwide using Aflasafe May, 2019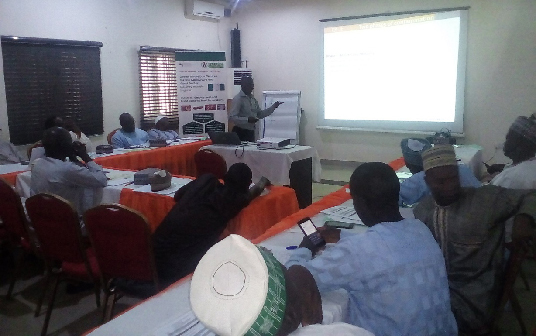 Maize Value Chain GAP refresher training for Kano and Kaduna Agricultural Development Project extension agents on field management of aflatoxin using Aflasafe. Organized by Green Innovation Centre (GIZ)6th to 9th May, 2019

Training of Women Farmers Advancement Network (WOFAN) field management of aflatoxin using Aflasafe technology 28th June, 2019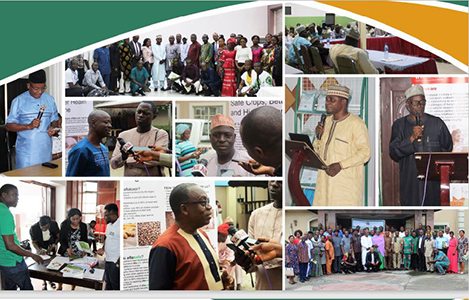 National Stakeholders engagement on Aflatoxin management and Adoption of Aflasafe for Safe food production (Abuja, Nasarawa, Kaduna, Gombe, Oyo, Enugu, Akwa Ibom) 24th June, 2019 to 5th July, 2019

Training of farmers at the Osun State Capital, Osogbo farmers day on the use of aflasafe for Aflatoxin management in Maize and Groundnut. 4th July, 2019

L&L- 2Scale Design and Diagnostics workshop on production of aflatoxin safe groundnut production in Nigeria at Kwara Hotel, Ilorin 14th -16th October, 2019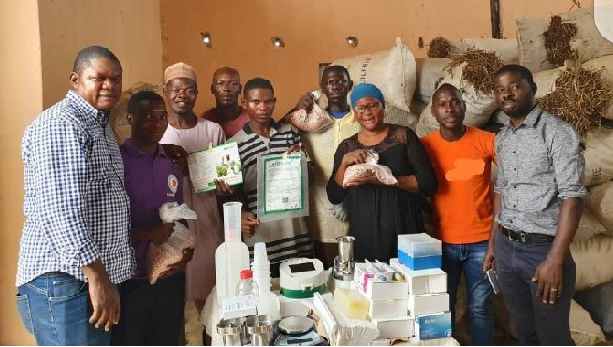 Training of Dansa foods (Subsidiary of Dangote farms) technical staff on aflatoxin testing using Acutech machine in Danbata, Kano state 26th November, 2019.

Training of Maize growers and Processors Association of Nigeria (MAGPAMAN) on the best use of Aflasafe for combating Aflatoxin in Maize production. 10th to 21st August, 2020
Collaboration with MEDA on training of women groundnut farmers at Dass, Bauchi state on the usage and benefit of Aflasafe 13th October, 2020